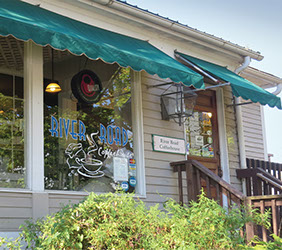 River Road Coffeehouse – Granville
935 River Road
Granville, Ohio 43023
740.587.7266
6 AM – 9 PM Monday to Friday
7 AM – 7 PM Saturday to Sunday
​
​

From Columbus – Take Rt. 161 east from I-270. Route 161 east transitions to Route 37 east and then to Route 16 east. Exit the freeway at the Granville 661/37 east exit. Turn left off the exit ramp, proceed over the overpass, and turn at the first right (River Road). We are the third drive on the left.
From Newark – Take Rt. 16 west from Newark, and exit at the Granville 661/37 exit. Turn right and then make another immediate right onto River Road. We are the third drive on the left.
Store Management
Andrea Roy joined the Granville management team in March of 2015 as the interim Store Manager. She has worked with River Road as a barista since 2011 and her favorite part of the job is getting to know staff and customers, as well as making delicious coffee beverages. Andrea lives for Jesus and showing His love. Her favorite things to do when not at work are to spend time with friends and family, read, cook and exercise. Andrea loves traveling, the Northwest and being outdoors. An Americano with honey (hot or iced, depending on the weather) is her current favorite drink.
Courtney Yost has been the assistant store manager at the Granville location since August of 2015. She is an amazing employee who started with River Road in 2013.
Employee of the Quarter
Haley Baker is the River Road Coffeehouse Employee of the Quarter. Since her hire, Haley has shown an eagerness to continue to learn and take on additional responsibilities during her shifts. Each role she plays in our store she does with a high level of excitement and desire for excellence. Haley will be the first to ask questions on how to improve at work and is always happy to receive feedback. Haley finds value in making sure the customers get an excellent product. She has mastered baking all our daily treats to perfection and we are now excited to have her building her skills behind the espresso bar. We are thankful to have Haley's good attitude and great customer service as part of our team.
Store History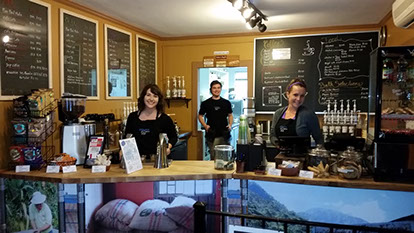 River Road Coffeehouse-Granville is the original store of our coffeehouse family and considered the "flagship" location. It opened in April, 2003 in an old Victorian Farmhouse situated at the gateway to Granville on "New" River Road. A succession of coffee shops operated out of this locating in the 1990's included The Gourmet Trading Post and the Granville Coffeehouse. Our first customers remembered George Mussi who opened the Trading Post and worked long hours to cultivate a coffeehouse "community" and build his business.
Granville residents embraced the "local-small" business flavor of the coffeehouse and the unique interior rooms provided wonderful spaces for business meetings with clients as well as a place for friends and family to discuss the issues of the day. In late 2005, Denison University students began coming "down from the hill" in increasing numbers to enjoy the coffee, pastry and food offerings of River Road Coffeehouse. We are especially proud of providing support for Granville High School's PAX Program which recognizes the value of kindness and consideration among students, faculty and staff.
Through several interior renovation projects, the Formans have been careful to preserve the integrity of the first floor layout. The home is divided into several rooms to afford our customers some privacy and the ability to meet with few distractions. We have decorated with a variety of seating options, including couches, armchairs, and two-, four-, and six-top tables. The Community Room is available to non-profit groups for meetings and presentations and the Fireplace Room and Dining Room house art and pottery selections. Many customers use the Gathering Lounge or the Sun Porch to read or people-watch. The circa 1860's farmhouse appears in the Archives of Licking County in its original location closer to Main Street as "Spring Hills Farm"…and the pictured front and west sides of the building are nearly identical to its current appearance.
In the warmer spring and summer months, we provide our customers with a three-level outside deck overlooking Lake Hudson
Our free WiFi is always up and running… allowing our customers to conduct business meetings, study, or simply keep in contact with the outside world.