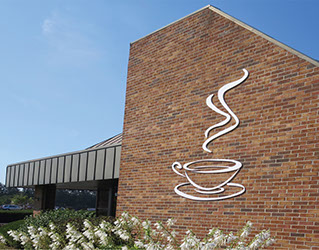 River Road Coffeehouse – Newark
973 North 21st Street
Newark, Ohio 43055
740•366•3356
6 AM – 9 PM Monday to Friday
7 AM – 7 PM Saturday to Sunday
​
From Columbus – Take Rt. 161 east from I-270. Route 161 east transitions to Route 37 east and then to Route 16 east. Exit the freeway at the Newark 21st Street exit. Turn left off the exit ramp, and proceed north on 21st Street for about .5 miles. We are located on the left side of the street across from Rally's.
From Newark – Take Rt. 16 west from downtown Newark, and exit at the 21st Street exit. Turn right and proceed north for about .5 miles. We are on the left side of the street just across from Rally's.
Store Management
Jeremey Scarberry has been the manager of the Newark 21st Street location since April of 2013. He has been instrumental in helping that store create a sense of community. Jeremey loves to interact with the customers...so be prepared for some great banter! He enjoys spending time with his wife, son and daughter as well as singing and playing guitar in his free time. His favorite drink is the Cocomint Mocha.
Amanda Bishop is the assistant manager at the 21st Street store and has worked in several River Road Coffeehouses in the past 3 years. Her favorite thing about working for River Road is getting to know all the customers and investing in the lives of the staff. She loves Jesus and goes to Kenya once a year to visit a group of kids she spent 9 months with in 2013. If she's not in Africa you can find her napping, watching Netflix, or drinking her favorite black coffee with her fiancé.
Employee of the Quarter
Haley Baker is the River Road Coffeehouse Employee of the Quarter. Since her hire, Haley has shown an eagerness to continue to learn and take on additional responsibilities during her shifts. Each role she plays in our store she does with a high level of excitement and desire for excellence. Haley will be the first to ask questions on how to improve at work and is always happy to receive feedback. Haley finds value in making sure the customers get an excellent product. She has mastered baking all our daily treats to perfection and we are now excited to have her building her skills behind the espresso bar. We are thankful to have Haley's good attitude and great customer service as part of our team.
Store History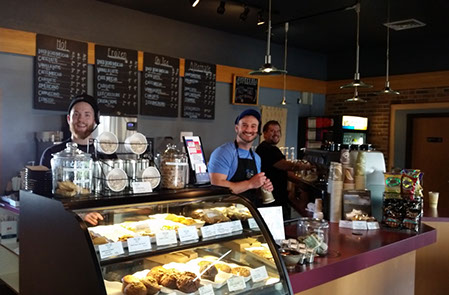 River Road Coffeehouse-Newark opened in December 2006 as the second coffeehouse for the Forman Family. Their success in the original Granville location prompted the father-son team to explore a commercial location on the busy 21st Street shopping corridor in northern Newark. The store operates out of a brick and glass single story structure that was built in the sixties and was home to the Licking County Savings Bank.
In 2004, Huntington National Bank purchased Unizan Bank which then occupied the structure and sold the building to a local investor given the existing branch Huntington already operated just north on 21st Street.
The original renovation included removing office partitions and replacing the carpet and tile with a stained concrete finish. In addition, the bank teller drive-up window was replaced with a retail store drive-thru. In 2014, the interior space was updated to provide a more intimate customer seating and service area.
Creating a sense of community in the midst of a commercial shopping area dominated by national retailers and big-box stores has been a challenge for a local business. However, the store has achieved partnerships with schools, churches and other organizations and has become a popular meeting spot for locals in recent years. When the Formans announced plans in 2014 to open their fourth coffeehouse in downtown Newark, they took great pains to make sure store patrons understood their commitment to the 21st Street Store remained firm!